Our Services
At Coastal Chiropractic, our friendly, knowledgeable team offers an array of solutions that suit a range of different needs. These options can be tailored to the needs of all ages, from newborns to senior citizens. We welcome the opportunity to help you heal and regain the active life you want.
Spinal Rehabilitation
Dr. Lee can help your spine to return to proper alignment so that your health can be restored. The spinal rehabilitation programs we offer may include a range of different solutions suited to your needs: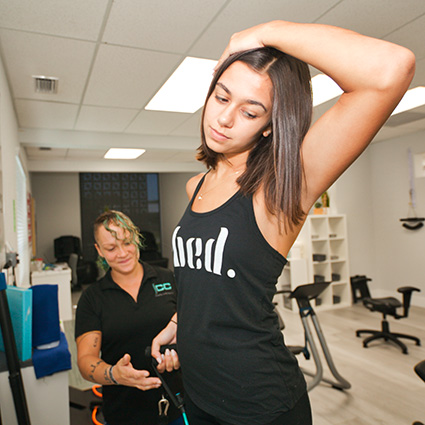 Wobble Therapy: During a 5-8 minute session, your spine's range of motion can be increased. This chair can be used before a spinal adjustment to ensure your discs are flexible to corrections without reverting to old, unhealthy patterns.
Neuro-muscular Re-education: A series of exercises are aimed at increasing balance, strength and stability while improving posture and strengthening your core for correct alignment.
It is ideal for all ages and will re-educate your brain to hold proper posture.
Postursizer Exercises: A variety of exercises can be performed on this long metal pole with a soft pillow located in the middle. It stretches your spine while correcting your posture.
Vibration Plates: Enhance your static posture with slow, gradual movements that speed your recovery. 20-50 vibrations, from all directions, are used per second to stabilize your core and back muscles.
Precor StretchTrainer™: This stretching program strengthens your body, increases range of motion and alleviates pain with minimal injury risk.
Deep Muscle Stimulator. This handheld vibration device is extremely powerful with deep penetration. It immediately increases your range of motion, treating soft tissues and giving excellent results.
Find out what will work for you to regain your body's full potential. Contact us today to get started.
CONTACT US »


Coastal Chiropractic Services | (321) 327-7014