Custom Orthotics in Melbourne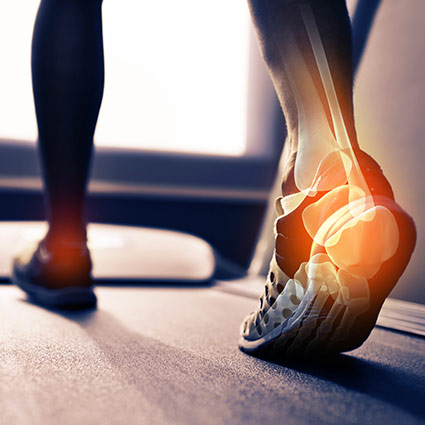 Our feet are the foundation of our bodies. When there are problems with the feet, the biomechanics of the body will eventually be affected, raising issues with the ankles, knees, hips, and back. Custom orthotics are designed to support the unique structure and pathology of your feet, relieving pain and restoring proper biomechanics.
Off-the-shelf insoles won't do the job; you'll stand taller and walk straighter with custom orthotics.
Why Do I Need Orthotics?
Over the years, our feet take a beating. Whether through sports, or just walking on the hard pavement, the steady impact may cause pain and structural damage. Injuries or excessive weight gain may also pose a problem.
When our feet hurt, it changes the way we walk and stand, which throws the whole body off balance. You may not only present with foot pain, but also pain in the ankle, knee, hip or low back. Daily activities become more difficult, and we stop moving as much.
Some issues custom orthotics may help with include
Collapsed arches
Poor posture
Plantar fasciitis
Bunions
Bursitis
Tendonitis
Foot, ankle, and heel pain
Move Better
At Coastal Chiropractic, we use MojoFeet Inc. to produce our custom orthotics. Established by a chiropractor who's also an avid runner, the company believes strong, active feet are the foundation for a strong, active body. Unlike other companies, MojoFeet doesn't use scales or scans to analyze the feet. They train providers how to prepare a corrective cast of your foot. This is the template your flexible orthotic is made from. No more guesswork involved!
When your finished orthotics are delivered to our office, you'll be pleasantly surprised at the difference they make in how you stand, walk, and move. By addressing the underlying cause of your foot pain, better mobility and proper function are possible.
Combining Therapies
Complementary therapies help provide the best outcomes. Using the following techniques and modalities, before and after receiving the orthotics, may improve the results you see:
Movement assessment
Joint mobilization and manipulation
Myofascial release techniques
Soft tissue mobilizations
Intrinsic muscle strengthening
Taping
Proprioceptive and balance exercises
Movement goal setting
Schedule an Appointment Today
Our bodies were made to move and designed to feel great while doing so. When you move well and move often, you can live a full life. Contact our office to find out more about custom orthotics.
CONTACT US »

Custom Orthotics Melbourne, Palm Bay, Indialantic, FL | (321) 327-7014