Back On Trac Decompression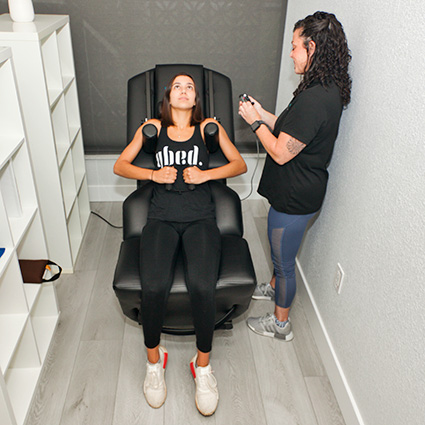 Every person is constantly in a battle with gravity. A frequent casualty is the soft disc material that separates each spinal bone. Pressure from our weight, trauma from an accident and other causes can increase the pressure on a weakened disc. In the most severe cases, the disc's soft pulpy center can escape, resulting in significant pain.
We use the latest technology-the Back on Trac table- to help alleviate back pain due to herniated and degenerated discs. Because discs are continually under weight-bearing pressure, they can be slow to heal. Through the gentle stretching of your spine, which is disc decompression, we help relieve pressure and promote healing.
What to Expect
First, we'll have you lie down on the Back on Trac table. You won't have to wear any cumbersome belts or restraints that were used in the past. We'll gently stretch the spine, joints and other important muscles, including those in the back, neck, hips and thighs.
Our patients
enjoy this tractioning process and find it to be relaxing. Because they don't feel the need to shield their spine, each sequence allows the damaged disc to receive nourishment and get rid of cellular waste. Healing then can begin.
Conditions Spinal Decompression Can Address
Here are some of the most common conditions that Back on Trac can effectively treat:
Degenerative disc disease
Extruded disc
Facet syndrome
Failed lumbar surgical syndrome
Herniated disc
Low back pain
Lumbar sprain strain
Neuromuscular reeducation
Protruding disc
Sciatica
Spinal fusion
Spinal Stenosis (congenital and degenerative)
Spondylosis
What Are Some Benefits?
Experience lasting relief. All the important areas are targeted with the therapy so your results will last longer.
It feels great. Patients start in a seated position and then are gently reclined. The added benefits of vibration and heat help put them in a relaxed state of mind and body.
Treatment is quick. Because treatments take just 12 minutes you can come in, get the care you need and return to your busy day!
Find out if Back on Trac spinal decompression can help you. Contact us today to book an appointment!
CONTACT US »

Spinal Decompression Melbourne, Palm Bay, Indialantic, FL | (321) 327-7014