Sports Chiropractic in Melbourne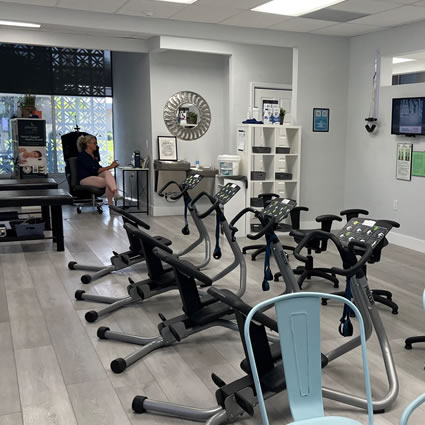 At Coastal Chiropractic, we love working with patients of all ages and walks of life-and that includes athletes of every skill level.
From youngsters playing middle or high school sports to professional athletes, if an injury has sidelined you or you simply want to elevate your body to function at its best, we're here to help with advanced techniques and modalities.
The best part? It's all 100% natural.
Services and Techniques for Athletes
We understand that even the most experienced athlete is susceptible to injury. That's why our entire team is well-versed in providing non-invasive, drug-free care when you need it most.
Some of our modalities include:
Sports chiropractic care with focused adjusting for athletes
Kinesio Taping: Helps to keep swelling down after an injury, speeding the recovery process.
Progressive Rehabilitation: We want to help you get well and stay well, and our rehabilitation programs are designed to help strengthen weak areas to aid in the prevention of reinjury.
Power Taping
Cupping
Frequently Asked Questions
How will I know if I can be helped?
We pride ourselves on diving deep to uncover your issues to first get you a proper diagnosis. Then, we'll let you know if we believe you're a candidate for care. Please know that we'll never force care on you-with us, your needs will always come first-plus, we aim to make you an active partner in your care!
What kinds of athletes do you work with?
We're proud to welcome athletes from all sports and walks of life to give care with us a try. We've worked with everyone from professional volleyball players to power lifters and motocross racers and beyond! Whether you're a weekend warrior, dabble in rec-league sports or play at the professional level, we're here for you.
Will I need to come forever to get adjusted to maintain results?
Your care is entirely up to you. Our goal is to bring you out of pain, restore function, and then help you maintain those results-but we do it differently than other offices. We know you lead busy lives and focus on instilling 'spinal hygiene' in our patients. We'll provide you with spinal care tips, exercises, stretches and more that you can build into your life to prevent injuries from reoccurring-all from the comfort of your own home. Some patients choose to see us for maintenance care on whatever schedule fits their needs-be it once every few weeks or each month. When you need us, we'll be here.
Do you offer help for heel pain?
Yes! We see a number of athletes and non-athletes dealing with heel pain, often caused by plantar fasciitis. Our patients have seen great results through Shockwave therapy sessions-we'll let you know if you're a candidate when we learn more about your injury and health history.
Learn More About Our Offerings Today
We'd love to help you get back into your game as quickly as possible. If you'd like to learn more about how our services for athletes can help, contact us today to book an appointment. We look forward to meeting you and getting to know your goals in health.
Book today!
CONTACT US »

Sports Chiropractor Melbourne, Palm Bay, Indialantic, FL | (321) 327-7014