Pediatric Chiropractic Care at
Coastal Chiropractic
Care for Newborns to Teens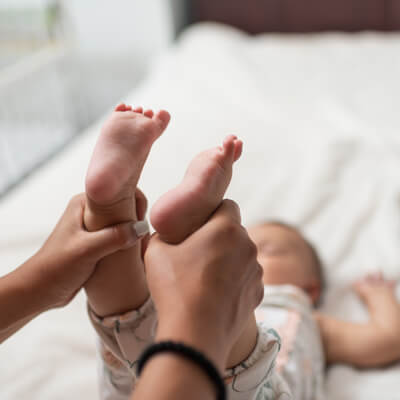 According to the International Chiropractic Pediatric Association (ICPA), chiropractic care is safe, effective and offers benefits such as better sleep, improved behavior and increased immunity.
Common childhood ailments have seen a great benefit from chiropractic care:
Allergic reactions
Bed-wetting
Chronic infections
Chronic urination
Colic
Ear infections
Nursing difficulties
Reflux
Sleepwalking
Frequently Asked Questions
How does pediatric chiropractic care help children?
We focus on alleviating the stress that is placed on the spinal nerves. In turn, the nervous system function is enhanced, allowing for increased performance of the body and its organs.
Children do not receive the same form of chiropractic care that adults get. Infants and babies receive care using just the pressure of the fingertips, usually while they are in a parent's arms or lying on mom or dad's chest. A gentle, noninvasive instrument is also used for adjustments on children.
How do I know if my child needs chiropractic care?
A trained chiropractor
can evaluate if your baby or child needs chiropractic care. We invite you to bring them in for a check so that we and ensure that no problems are present and their spine is growing and developing properly.
Get Started Today
Contact us today to schedule your child's Melbourne pediatric chiropractic care!
CONTACT US »

Pediatric Chiropractor Melbourne, Palm Bay, Indialantic, FL | (321) 327-7014