Motion X-ray Studies at
Coastal Chiropractic
Determining the Cause of Your Pain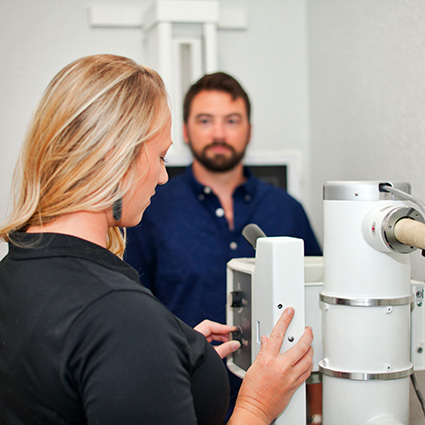 If you've sustained an injury or are experiencing pain, it's essential to understand the cause. At Coastal Chiropractic, we use state-of-the-art motion X-ray studies to identify the source of your problem accurately.
These issues may include:
Back and neck pain
Dizziness and nausea
Headaches
Inability to move
Muscle weakness
Numbness and tingling
Pain while moving
Persistent pain
Shoulder discomfort
With this advanced technology, your chiropractor can view the spine and connective tissues while you are in motion. If your bones aren't moving as they are intended to, the motion X-rays can detect that. We can then devise a solution to restore your mobility.
Thanks to this modern technology, your chiropractor can look at your cervical and lumbar spine in motion. The X-ray is taken when you are in a standing position and moving in a weight-bearing manner. One of the primary benefits of motion X-rays is they provide precise, moving images of your joints and bones.
Motion X-rays are effective in diagnosing and treating pain, degenerative disc disease, and chronic conditions. They are also useful for the following types of injuries:

Automotive-related
Sports
Work-related
Upper cervical spine
By performing a X-ray motion study, we can determine what your spinal state is before we provide care. We also can gauge the progress you've made after your finish your treatment plan.
Book You Appointment
Find out if a motion X-ray study is right for you. Call our Melbourne office today!
CONTACT US »

Motion X-ray Studies Melbourne, Palm Bay, Indiatlantic FL | (321) 327-7014